We are glad you stopped by to visit our site. We hope you found it both informative and practical. Feel free to drop us a line below to share an idea or give us feedback. We're always looking for additional resources that can be shared freely with others. We would love to hear from you. Please fill out the form below.
---
About Us
Our goal is simple…provide a forum of biblical integration principles that informs, educates and encourages educators to biblically integrate every subject. To that end we endeavor to provide practical resources that are economical and professional.
This website was founded by twin sisters, Deborah Carpenter and Dana Bincer. Deborah's passion for biblical integration and Dana's passion for graphic design first led them to collaborate on creating beautiful and professional quality biblical worldview posters for the classroom. Their passion grew from there.
Deborah Bagley

Teacher, speaker and athlete. Often referred to by her students as their "Favorite Teacher", Deborah believes that if she enjoys what she's doing her students will too.
She has been teaching since 1997 and biblically integrating her lessons since 2000. She has taught in the USA, China and Bolivia. She has played an integral roll in helping the schools where she taught with accreditation and biblical integration. She is a member of ACSI and NICS.
When not engrossed in education you'll find Deborah either crocheting or enjoying God's creation rock climbing, dirt biking or mountain biking.
Dana Bincer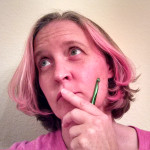 Crocheter, reader, mountain biker. Dana has worked in the administrative field since 1994 and is currently working her dream job as an assistant editor on a crochet magazine.
After work you'll find her with her nose stuck in a book, or a hook and yarn in hand, or her feet grinding the pedals of her mountain bike on some intermediate single track trails.
---
Talk to Us!
We look forward to hearing from you. Please complete the form below.